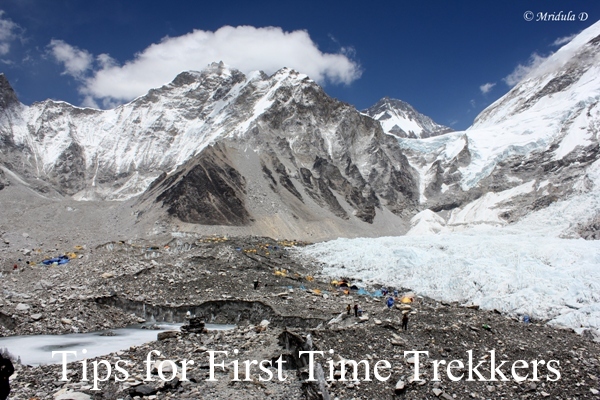 I first went on a trek in 2002 and how green I was! I trekked with Seshadri (my husband) to Sar Pass in Himachal Pradesh. He had been on a few treks in college itself. The stories he used to tell were enough to put anyone off trekking for ever! Once they were lost in a jungle in Uttarakhand and walked from morning in the rains till 9.00 pm before they reached anywhere and got something to eat. I told him I was not interested in any of these mis-adventures! And yet I wanted to trek! So we went on a YHAI trek which was well organized. And the rest is history. After trekking for more than ten years here is a post dedicated to tips for first time trekkers.
1. Trekking in Group vs Trekking with Friends vs Trekking Solo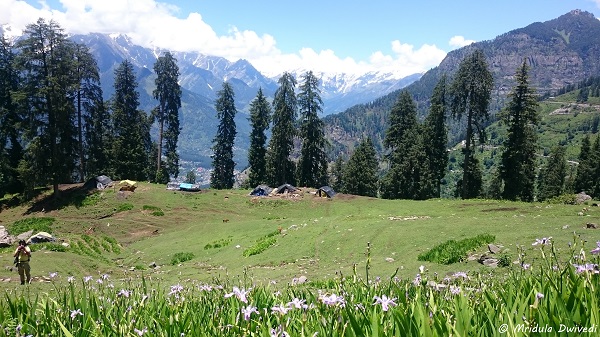 After having done all, I would vouch for trekking with family and friends. If I can't get anyone known to trek with me I go solo (with a guide). But then I am old.
I once a met a couple who got married on that day in a remote hill temple on the Triund trail. They did so as a mark of respect to the mountains because they first met on a trek! So, I guess group, family, friends or solo is a very individual choice.
2. Easy/Moderate/Difficult Treks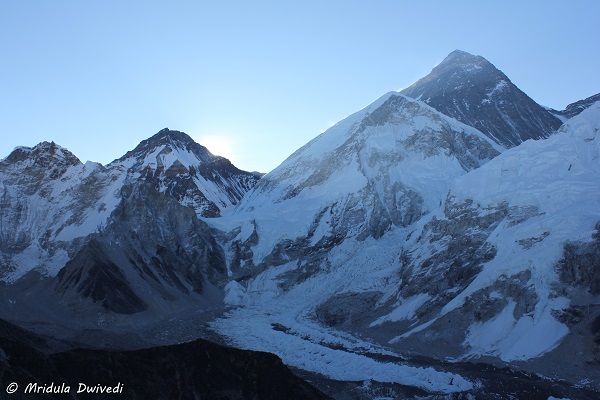 Treks are categorized as easy, moderate or difficult. The actual terminology used may differ, but that is what it boils down to. Let me be honest with you. I get tired on all the treks! Even the easy ones tire me out. I get dead tired on the difficult ones. If you are testing waters, I would say go for an easy trek but beware, all of them are tiring.
3. It is not a Race!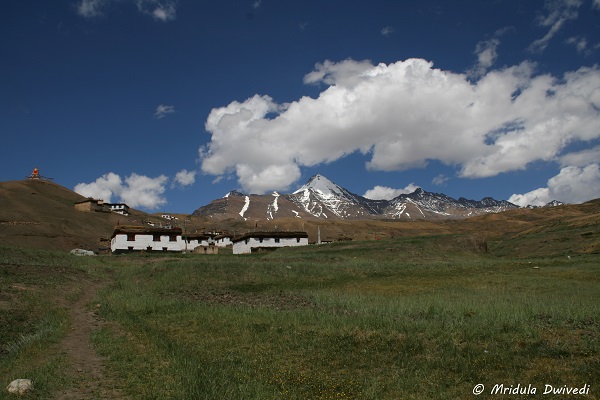 I learned this with YHAI. They drilled it into us that trekking is not about who reaches the next campsite first. You do not run from campsite to campsite when you trek! It is everything in between the two camps that is beautiful. Sometimes when I walk through thickly wooded areas, I just wish to sit down and breathe in the smell of the forest. I like to touch the wild iris, or simply stand taking in the view and then click a picture.
4. Packing Lists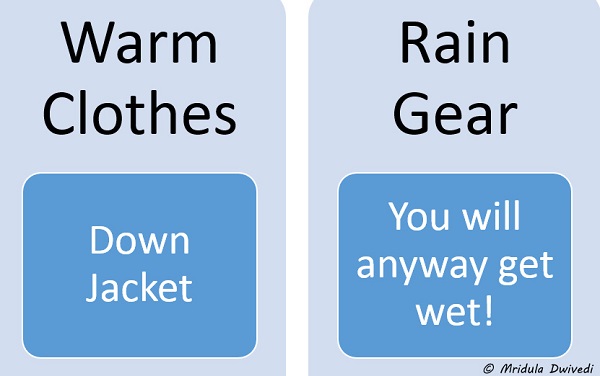 A lot of websites give a long packing list. Carry what makes sense to you. I make sure that I have warm clothes (including a down jacket) a decent rain gear, a torch and comfortable clothes. It makes sense to wear a full track pant (anything that covers your legs) as then you are protected against thorns and bushes. I drink water out of a normal water bottle. See what you feel necessary and cut out on fluff. If you don't have a sleeping bag, it can be hired.
5. Water Sources are Important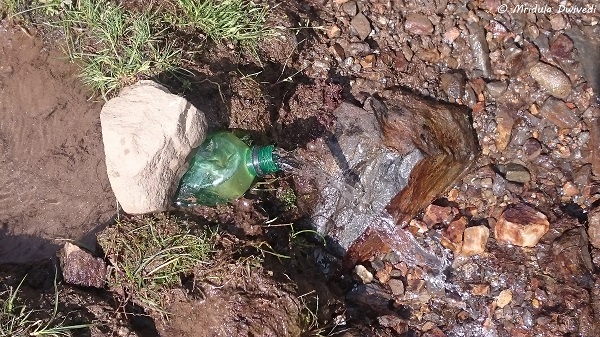 However much you may like a spot, campsites are established near water sources. Once the camp is set, water is required both for drinking and cooking. If you are 5 kilometers away from the water source it will make everyone's life miserable. So, listen to your guides because they know the water sources. I do not use purifying tablets when I am trekking in India. But once again that is an individual call and depends on what you are used to.
6. Drinking Water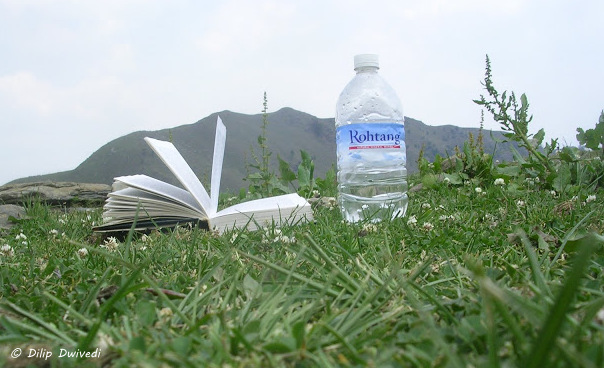 It is imperative to maintain a good liquid intake while trekking or one can get dehydrated and dizzy very quickly on the mountains. Drink juice, drink tea, drink soup, drink water, just drink something. Alcohol is not counted as legitimate liquid intake. I fill the water bottle from any flowing stream. Photo credit for this shot to my nephew Dilip Dwivedi aka brat 1.
7. Call of Nature
On most of the treks, other than the tea house ones, the call of the nature has to answered in the open. Stay away from water sources and do not contaminate them.
On tea house treks there are guest houses along the way so you stay under a roof rather than a tent. Valley of Flowers if one such trek in Uttarakhand India. Everest Base Camp and Annapurna Circuit treks in Nepal are also tea house treks.
8. Trekking Shoes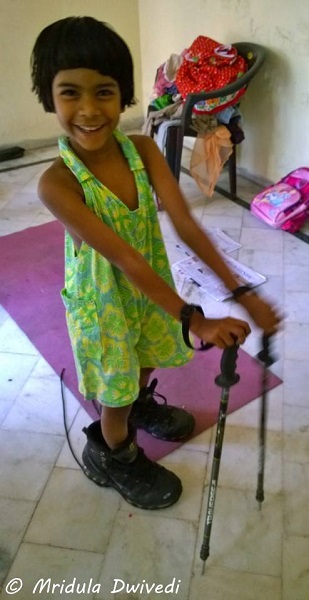 It is imperative that you break in your trekking shoes if you bought a new pair. And if you wear a sneaker on your first trek like me, you will slip and slip and slip on snow! And then you will learn your lesson like me and never wear them again particularly if there is snow! Having a good pair of shoes that has been broken-in can make all the difference to your trek! It is no fun to trek with blisters.
9. Lunch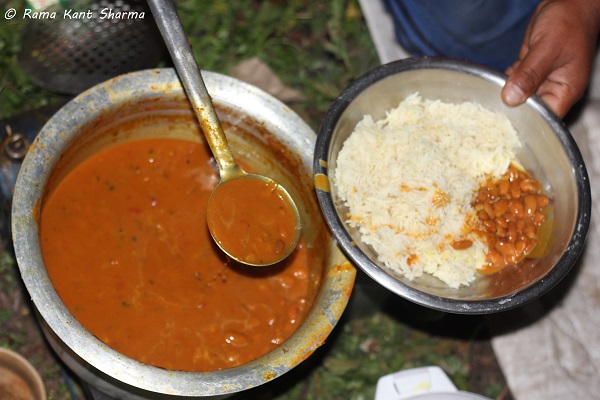 Food is cooked when tents are pitched at the next campsite, which usually doesn't happen by lunch. So, you may get a packed lunch at the best. While trekking the main meals are breakfast and dinner.
10. Loud Noises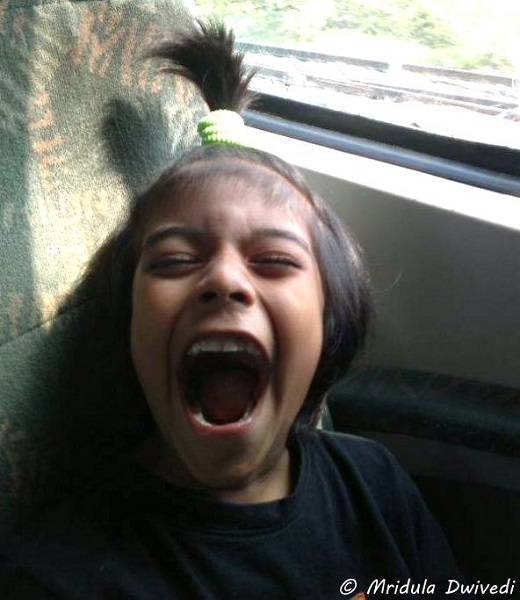 I take a strong exception to loud noises on a trek. You see, I pay all that money to get away from the noises of the city. You are not cool if you are shouting at the top of your voice while walking, others are walking on the same trail to find some peace and quiet.
And may you drop the music system from the sheerest cliff if you are carrying one and playing it at full volume. Trekking and loud noises simply don't mix. Stay away in the cities and go to the nightclubs instead. Trekking is not for you.